Offshore Software Development - Gks Technologies
Foxbase / Visual FoxPro / dBase Development Services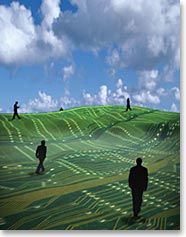 GKS Technologies provides expert FoxBase / Visual FoxPro / dBase Database development across multiple platforms. our expertise in custom FoxPro development is the result of working experience in Foxbase/ Visual FoxPro / dBase since 1988. Our team of FoxPro developers derives its expertise in FoxPro technology from their experience in multiple projects - which almost completes the spectrum of FoxPro in terms of varying applications and industry coverage.

FoxPro Services
GKS Technologies provides a range of services on Foxbase/ Visual FoxPro / dBase, leveraging the deep FoxPro expertise at our center in Mumbai, India.
FoxPro application development
FoxPro consulting and programming
FoxPro scripting services
FoxPro QA and testing services
FoxPro client/server application development
FoxPro software maintenance and support services
FoxPro porting and migration services
FoxPro database design services
FoxPro data integration, data exchange
FoxPro database migration services
FoxPro Web designing and development
FoxPro Network/Client-Server Application Development
Our Foxbase/ Visual FoxPro / dBase consultants have strong experience in delivering single-user desktop and network multi-user FoxPro client-server database applications. Technologies used for FoxPro Client-server applications include the following versions of FoxPro:
FoxPro for MS-DOS: 2.5, 2.6
FoxPro for Windows: 2.5, 2.6
Visual FoxPro for Windows: 3.0, 5.0, 6.0, 7.0, 8.0, 9.0
FoxPro Web Application Development
Our FoxPro Web Application Developers have wide experience in Web Application Development using West Wind Web Connection(Visual FoxPro), JavaScript, HTML, AJAX, CSS, ASP and various versions of Visual FoxPro on Windows.
FoxPro Migration
Our FoxPro developers have good experience in migrating FoxPro applications from MS-DOS version 2.5 to Visual FoxPro for windows version 9.0. We also help our clients to:
Migrate FoxPro to SQL Server
Migrate VFP to .Net
Migrate FoxPro to MySQL
Migrate FoxPro to MS Access
Migrate FoxPro to .Net
Convert FoxPro to C#
FoxPro and Systems
GKS has worked on and delivered various applications and systems. Here are some examples of systems we have developed on FoxPro.
Inventory management system
Library management system (LMS)
Business management system
Workforce management system
Accounting and AR/AP systems
Medical Billing System
Logistic reporting systems
FoxPro and Industries
We at GKS have provided cutting edge solutions to clients in the below mentioned industries and have gained significant appreciations for our expertise:
Travel & Tourism industry
Software Product and Services industry
Automobile Industry
Healthcare Industry
Publishing Industry
Insurance Industry
Government Business Industry
Software products and solutions Industry
Context of FoxPro Development Services
FoxPro is used in different ways, and GKS has experience in each. There are subtle differences in process and technique when developing for these different context areas.
FoxPro for custom business systems
FoxPro for web applications (Internet/Intranet)
Key Points
25+ years of FoxPro software development experience
Platforms: FoxPro on Windows, MS-Dos
Versions: Experience from FoxPro for MS-Dos to till current version Visual FoxPro 9.0 for windows
Size: From Stand alone application to Web based application with hundreds of files, tables (size in GB) and with users.
To discuss about our services, expertise and how we can help you, please call +91-9869032292.