Offshore Software Development - GksTechnologies
We have evolved sound delivery models and business strategies to deliver high-quality and cost-effective solution to our clients to meet their goals and perform better. Our commitment, customer satisfaction, technical expertise, corporate value and transparency have made us a preferred vendor to our clients around the globe.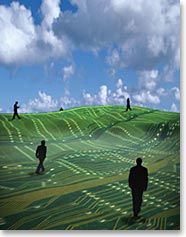 Besides undertaking development for various business domains, GKS Technologies in India has maintained a commitment to creativity and quality as it serves clients across USA, UK and Europe. We have experienced teams that include professionals from the field of Offshore Software Development, Web Designing and Software Development. We use our multi-discipline skills to determine clients needs, convert them into requirements and fulfill them with an aim of achieving client satisfaction
We are passionate about our work - We are here doing what we love to do. For us its more of an addiction than work, and as such we continually strive towards innovative solutions and creativity.
We listen - We know that if we are going to provide you with an effective and efficient solution that we need to actually understand your requirements. Our team will take the time to build the strong project foundations that are fundamental to a win / win outcome.
We offer fair and reasonable pricing - Adopting an offshore outsourcing model should be more than seeking cost reductions, it should establish a framework to drive continuous improvement. Many small medium enterprises (SME) around the world are looking for cost effective solutions. we bridge the gap by providing quality output at reasonable pricing. Before embarking on your next online initiative you should have a no obligation discussion with us - it can't hurt !
We are a dynamic team - This gives us the ability to deliver projects quickly and dedicate extraordinary attention to our clients objectives. Also, we can form teams of different sizes depending on the projects' sizes and requirements.
We are a professional team with strong family values - Life is not all about work, work, work. We do work hard, but we also appreciate time for family and play is essential. As a team we all work in together so that we can all have the time we need for a full and, as much as possible, balanced life. We all share the view that generally people are good and when given the chance, its amazing what many can achieve.